Smoking tests for pregnant ladies?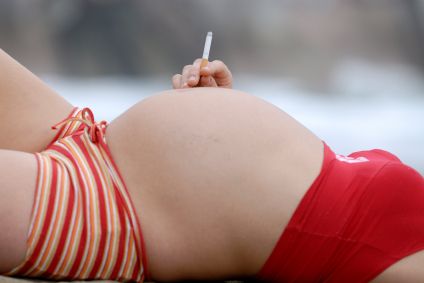 Whilst enjoying my morning coffee (Monday morning off for me today) I have been enjoying "The Wright Stuff" and the topic of an early conversation addresses the delicate issue around smoking during pregnancy and the notion of testing pregnant ladies to see if they have had a cigarette that day.
Babies born to mothers who smoke:
Are more likely to be born prematurely and with a low birth weight (below 2.5kg or 5lb 8oz).
Have a birth weight on average 200g (7oz) less than those born to non-smokers. This effect increases proportionally – the more the mother smokes, the less the child weighs.
Have organs that are smaller on average than babies born to non-smokers.
Have poorer lung function.
Are twice as likely to die from cot death. There seems to be a direct link between cot death and parents smoking.
Are ill more frequently. Babies born to women who smoked 15 cigarettes or more a day during pregnancy are taken into hospital twice as often during the first eight months of life.
Get painful diseases such as inflammation of the middle ear and asthmatic bronchitis more frequently in early childhood.
Are more likely to become smokers themselves in later years.
In addition, pregnant women who smoke increase their risk of early miscarriage.
Now I know that these are rather unpleasant and possibly unwelcome nuggets of truth but if there is even the smallest chance of these affecting the development and health of an unborn baby, why would anyone take such a chance?
Hypnosis and hypnotherapy for smoking during pregnancy is very, very safe. All of my clients are insured for a million pounds when they are with me it's that safe… Unlike a single puff from a cigarette.
Don't be embarrassed to admit you are pregnant and smoking. Be proud to step up and make the change and get rid of cancer sticks from your life for the health of you and your unborn child
Either email info@practicalhypnotherapy.co.uk or call on 0800 612 6451 or 07796 272790 to arrange the time and date..